The Tribe Custom Socks Difference
Custom socks have never been so easy
Tribe Custom Sock Styles
Satisfaction guaranteed on all of our styles. Never sublimated!
Artist Design With No Restrictions
We are pioneering a custom sock printing technology that enables us to digitally print vibrant artwork directly onto premium yarns, without using cheap alternatives like dye sublimation.
Traditional custom sock manufacturing does not allow for complex design or patterns due to machine limitations, which drastically limits creative possibilities. Tribe custom socks are printed with millions of colors and photo quality artwork that show vividly no matter how much the socks are stretched or worn, enabling us to create designs that were never possible before.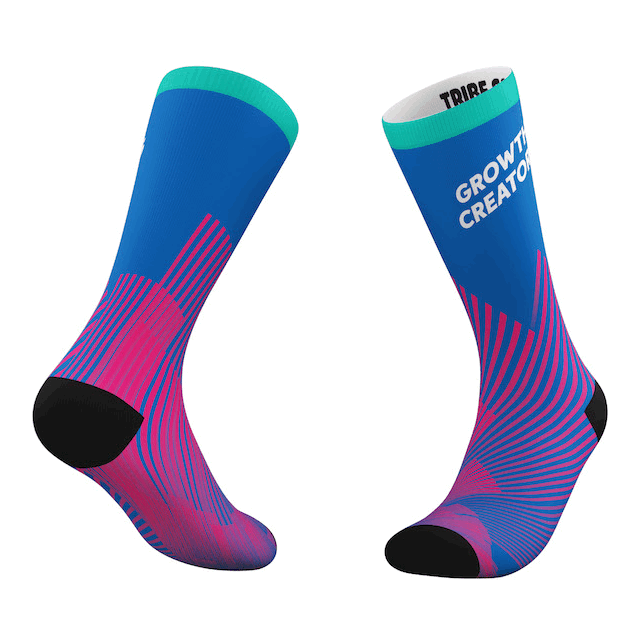 Custom Socks Made Without Compromise
Tribe Socks are engineered by comfort fanatics on a mission to create the perfect pair of custom socks.

Using the latest machinery and advancements in textiles, we spent years finding the perfect blend. Frustrated with the status quo, we created our own signature yarns. Tribe Socks are made on 200-needle Lonato machines that knit durable, dense yet incredibly soft socks that are guaranteed to feel and fit great. The toe is hand-linked and completely seamless. Our socks are truly one size fits all, from a size 4 female to a size 13 male, designed to keep up with your busy lifestyle.
Designed for Your Brand
Retail fully customizable sock packaging and hang tags designed for your brand. All of our packaging is digitally printed with no color limitations, so you won't need to deal with using a small number of colors or any restrictions.
Creating a retail-quality custom apparel brand drives every decision we make. Tribe packaging is premium quality and helps bring your brand to life.
Trusted By Thousands Globally
Feet of all shapes and sizes trust Tribe to deliver the best custom socks as unique as their brand

Redfoo x Tribe Socks Case Study
We partnered up with Redfoo from the band LMFAO to make his own line of custom socks for his music video "Sock it To Ya."
Feet-ured Case Studies
Custom socks as unique as your brand
Guide to Custom Socks
Everything you have ever wanted to know about why custom socks 🤔🧦
Introducing Print on Demand Socks
Designed for e-commerce and online webstores looking to sell retail quality socks without holding any inventory risk, Tribe print on demand socks can turn around thousands of unique designs every day, on demand. We can easily integrate into most carts in just few minutes. 
Spira Event Socks
SPIRA is a film production company based in Quebec and use their custom socks at film festivals and other company events to spread their message in a creative way.