NotQuite-Knee-High, 200 Needle, 360 Custom Digitally Printed Bamboo Socks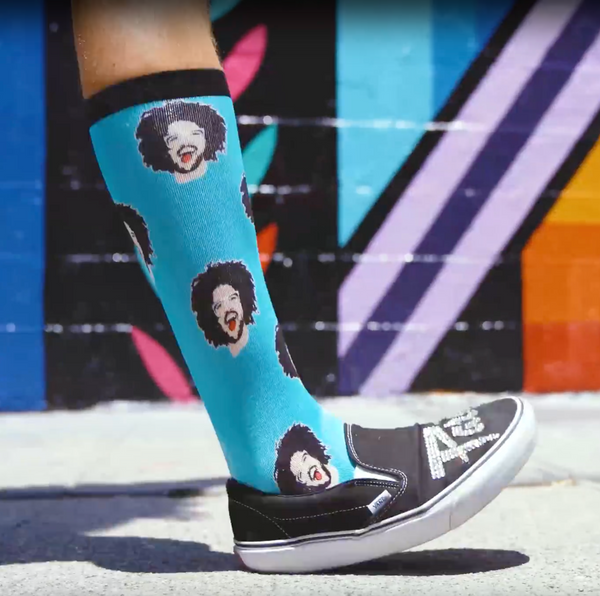 NotQuite-Knee-High, 200 Needle, 360 Custom Digitally Printed Bamboo Socks
Note to Burning Man orders: These are perfect socks to wear in the playa with your group, camp, art car, costume, etc. After all, socks are the only item pretty much everyone wears. Given how near Burning Man is our cut-off for orders is 9am PST on Monday, August 14th, and orders will only be shipped in San Francisco, CA. If you have any questions please contact andres [at] bakdrop.com
How it works:
Click the "Create Custom Socks" button and fill out the form. Upload artwork and suggestions that our designers can use to create a digital mockup of your sock*.
You'll be able to give us feedback on that design, and we'll do up to two revisions to your design, for free.
Once you sign off on the design, we'll send it to production, where it will get printed on your socks. This process takes 2-3 weeks.
We will then ship the socks to you, so you can enjoy them!
* If you would rather do the design yourself, you will also be able to download the blank design files and provide the finalized design to us.  
Here are the technical details that set them apart:
Flat knit - these are great every-day socks, not too thick, not too thin.
15-inch long, so about knee high, but not quite. Not too short, not too long.
Hand-linked toe - it's a bit more work but makes sure the toe is seamless. Your feet will appreciate it.
200 needle count - the highest available needle count machines that produce a super soft, dense fabric that results in extremely high-definition printing.
360 printed, using a revolutionary new technology that eliminates the seams produced in dy-sublimation, and allows us to use all types of materials.
Bamboo rayon with air-covered spandex - Bamboo rayon is derived from bamboo plants, which are a rapidly and sustainably growing plants. Bamboo rayon is extremely soft to touch, with a silky feeling, and a great shine when printed. We added air-covered spandex to give it extra-stretchiness.
One-size fits most - from about a size 8 women's to a size 12 men's.
Your very own design!
Pricing
| | |
| --- | --- |
| Quantity in Pairs | Price per Pair |
| 25-120 | $11 |
| 120-240 | $10 |
| 240-360 | $9 |
| 360-480 | $8.65 |
| 480-600 | $8.35 |
| 600-720 | $8.20 |
| 720-840 | $8 |
| 840-1000 | $7.88 |
| 1000+ | $7.55 |