200 Needle, 360 Custom Digitally Printed Cotton Socks
200 Needle, 360 Custom Digitally Printed Cotton Socks
How it works:
Once you check out and place your order, you will receive an email with a link to upload artwork and suggestions that our designers can use to create a digital mockup of your sock*.
You'll be able to give us feedback on that design, and we'll do up to two revisions to your design, for free.
Once you sign off on the design, we'll send it to production, where it will get printed on your socks. This process takes 2-3 weeks.
We will then ship the socks to you, so you can enjoy them!
* If you would rather do the design yourself, you will also be able to download the blank design files and provide the finalized design to us.  
Here are the technical details that set them apart:
Flat knit - these are great every-day socks, not too thick, not too thin.
12-inch long, so about half calf. Not too high, not too low.
Hand-linked toe - it's a bit more work but makes sure the toe is seamless. Your feet will appreciate it.
200 needle count - the highest available needle count machines that produce a super soft, dense fabric that results in extremely high-definition printing.
360 printed, using a revolutionary new technology that eliminates the seams produced in dy-sublimation, and allows us to use all types of materials.
Cotton with air-covered spandex - cotton is a natural fiber that has been used in garments for centuries, and after testing many different fibers, we realized maybe those romans weren't so crazy after all. We added air-covered spandex to give it extra-stretchiness, so we can produce a one-size fits most sock - from about a size 8 women's to a size 12 men's.
Your very own design!
Pricing
| | |
| --- | --- |
| Quantity in Pairs | Price per Pair |
| 25-120 | $11 |
| 120-240 | $10 |
| 240-360 | $8 |
| 360-480 | $7.65 |
| 480-600 | $7.35 |
| 600-720 | $7.20 |
| 720-840 | $7 |
| 840-1000 | $6.88 |
| 1000+ | $6.55 |
Sock Printing from the Future
We are reinventing manufacturing by digitally printing complex artwork onto retail-grade premium socks.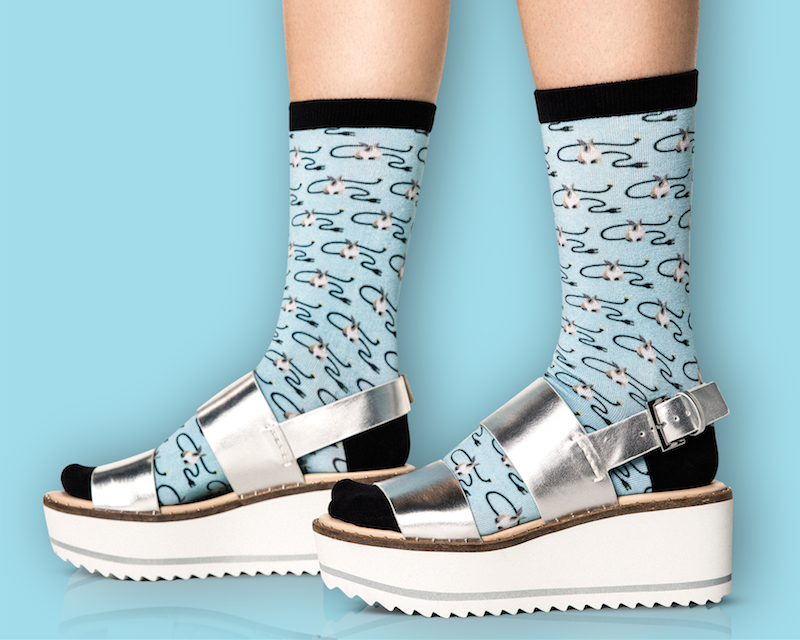 No White Lines

Goodbye white lines! Our printing process gets deep into the fibers and keeps printed socks looking great on and off your feet.

Millions of Colors

We print in full CMYK, which enables us to push the limits of traditional manufacturing and bring millions of vibrant colors to life in a single design.

Vibrant High Definition

Complex patterns or photography can be printed in full 300 DPI, without making any compromises on quality. This is unprecented in the sock world.

Seamless 360 Printing

Our printing process prints 360 degrees which enables us to consistently ensure a seamless, retail-quality custom sock design.
The Tribe Socks Difference
Custom socks have never been so easy.
Fast Lead Time

Need custom socks in 5 days? No problem! Our lead times are 5-10 days in the USA, and 3-5 weeks in China.

No Dye Sublimation

We print our socks 360 degrees to ensure they are seamless and look great no matter how much they are stretched.

Premium Yarns

We spent years testing the highest quality yarns and created a premium blend that is unlike anything out there.

Designed to Keep Up

Our socks are 200 needle knit with reinforced toe and heel to keep up with your busy lifestyle in style and comfort.